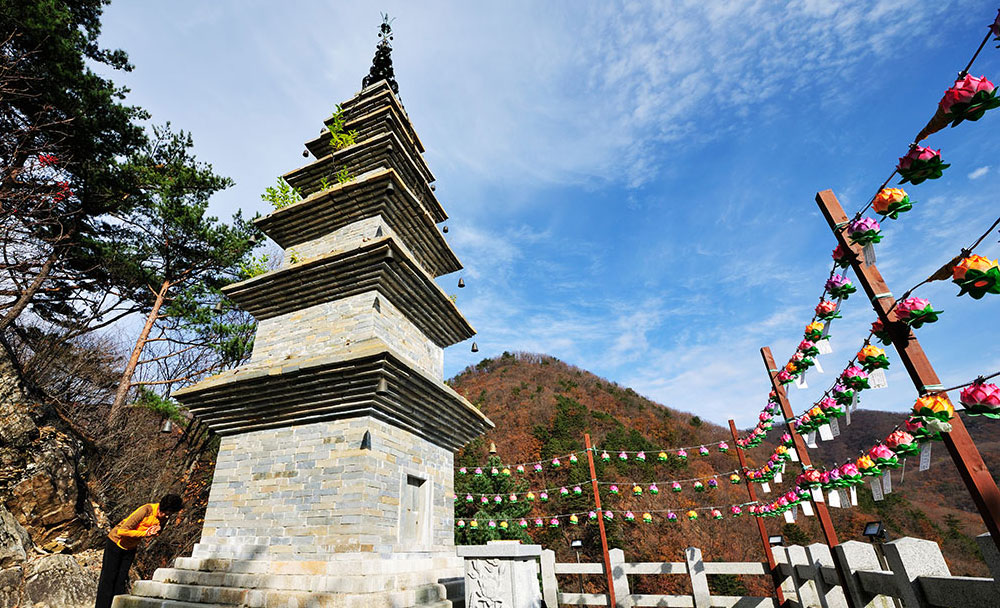 Natural Monument
Sumano Pagoda
in Jeongamsa Temple
Photo Source: Cultural Heritage Administration (http://www.cha.go.kr/cha/idx/SubIndex.do?mn=EN)
Su Ma No Pagoda ( Water Agate Pagoda ) in Jeong Am Temple
Treasure Number 410
Established : 1964
Location : San 214th, Go Han - ri, Go Han - eup, Jeong Seon - gun, Gang Won - do
Description : One stone pagoda
Height : 9 Meters
Length : 20 ~ 30cm
Thickness: 5 ~ 7cm
Material : Compound of Calcium stone
Year of Built : Go Ryo Dynasty
History
Fish named Yeal Mok Oa is a kind of Salmon Trout that lives in fresh water. It's full size is between 70 ~ 100cm. This fish has a small mouth and little purplish brown dots all overit's head body and fins. The habitat here is an deep crystal clear water pool which temperature never goes above 20'c. The water here has a deep abyss for the fish to winter. Also it runs slow enough over a pebble bottom giving the fish a good place to spawn. The Salmon trout is not unique to Korea but it is rare here. Jeong Am Temple Valley along with Bong Haw - gun, Gyoung Buk Province are the southern most extremity where this fish lives in the world. For this reason Korea protects this fish extinction. Koreans plant a lot of trees around the mountain streams and are active in the habitat distribution of the Salmon trout.
Treasure Number 410
Su Ma No ( Water Agates ) Pagoda in Jeong Am Temple There is a legend about a Buddhist monk who to China to study meditation. On his return to Korea he passed and met the God of the West Sea. The West Sea God was touched by the monks faith and five the monk Agates. The monk used this rock to build the pagoda.
The Su Ma No ( water agate ) pagoda was remadled in may the 39th year of the Reign of King Suk Jong ( 1674 - 1720 ). 6 years later it got ruined by a thunderbolt. They remode it again in the 46th year of the King Young Jo. 100years later noticed the pagoda slanting. One monk stated to pray on it and 100 days later found a pile of agates by the pagoda. Monk got the help of other monks and they remodeled it in 1872. This time they enshrined Gold and Silver bowls with a relic, 81 beads of Buddha and other stuff. In 9172 Su Ma No Pagoda started falling apart. Just before its collapse, the cultural properties government officials started repair again. In 1996 they government put in good order that the pagoda comply with dismantlement and be repaired.
They spent part of lots wons ( Korean money ) from national expenses.
Su Ma No : Water Agate
Mo Jeon Seok Top : Materials are rocks but those rocks cu as well as bricks, so pagoda looks like it is made out of bricks.
How to get to Jeong Am Temple
From Seoul

by the train
Take train from Cheoung Lang Ri station → get off at Go Han station → Take bus or taxi
(Takes 4 hours to get there)
by car
Jung Bu Express Way → Won Ju → Jae Chun → Young Wol → Nam Youn 3 way I.C → Go Han Jeong Am Temple
From Sae Mal…

by car
Sae Mal → Pyoung Chang → Jeong Seon → Jeong Am Temple
From Jin Bu

by car
Jin Bu → Na Jeon 3 Way I.C → Jeong Seon → Jeong Am Temple